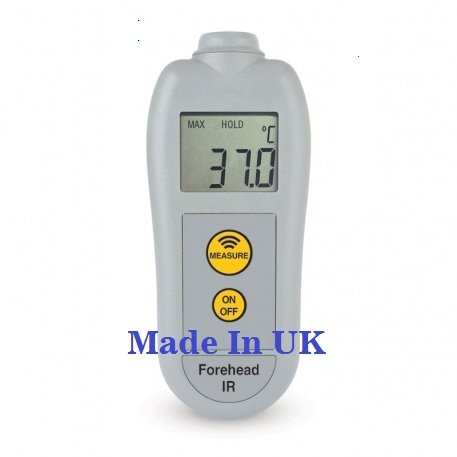 Designed and manufactured in the UK, the RayTemp Forehead IR infrared non-contact thermometer is specifically designed to get fast accurate readings from a human forehead.
Simple and easy to use it will quickly and accurately indicate whether the person has a temperature.
Press and hold the measure button and aim the thermometer at a humans temple, making your way across to the other temple following our guidelines on proper use.
The distance between the thermometer and head should be between 1 and 3 centimetres during the measuring process.
The RayTemp Forehead IR infrared thermometer features a large, easy to read LCD display with low battery indication and an auto-power off facility that turns the instrument off after 10 minutes, maximising battery life.
Each unit is housed in a robust ABS case that contains 'Biomaster' additive which reduces bacterial growth and is powered by three AAA batteries that give a minimum of 5000 hours battery life.